"Nature is healing", said Miguel Milhao the CEO of Prozis in a pro-life post on LinkedIn on Sunday. The Portuguese CEO said, "It seems that unborn babies got their rights back in USA".
His post supporting the overturn of Roe v Wade has gone viral on Portuguese social media, causing many Portuguese influencers to revoke their partnerships with the health and wellness brand.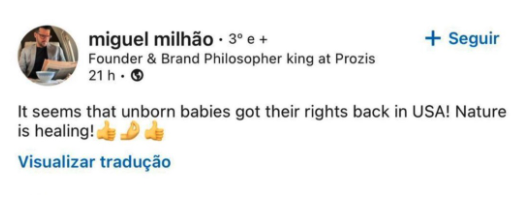 Actor and singer, Diano Monteiro who lives in the US are now distancing herself from Prozis. She said, "Ambassador of Prozis for six years, this is my position in relation to the brand, due to the declaration of CEO Miguel Milhao. An era has come to an end for more, but my heart and values speak louder".
Monteiro went on to say in an Instagram video that she would work with Prozis again if the founder and CEO leaves the company.
The Portuguese actress Jessica Athayde announced on Tuesday that she is also no longer working with the brand. "Today and always, I will continue to show publically that I am on the side of women, of their rights and health. And all our voices will be necessary in such a dangerous moment where the world is regressing in front of our eyes", writes Athayde.
Many have taken to Twitter to declare they are boycotting Prozis. In response to the backlash, Milhao said in a podcast that "Prozis does not need Portugal", calling the brand "uncancelable".
The founder spoke in a Prozis podcast on Tuesday to explain his position. Milhao said that his position surrounding abortion is about "ethics". He compared abortion to killing an elderly person, saying "in my view, killing an embryo, a fetus, a newborn, or an adult is all the same, its stealing experiences". He called those who criticized him on his LinkedIn post a "mob" of "sons of bitches".
In an article for Publico, Carolina Andre said that the CEO's post is unsurprising. She said, "The pro-life mindset – which does not apply to women's lives here – is deeply rooted in a catholic and conservative country such as Portugal".
Prozis has deactivated comments on their Instagram page, not allowing people to comment. An official statement by the brand has not been made on social media. However, on Prozis' website, the brand's mission statement states, "Our inspiration is rooted in Christian and Western ethics. We don't care about what is politically correct. Don't try to change us, you will not succeed".
Abortion became legal in Portugal in 2007 through a national referendum where more than half of Portuguese voters voted to legalize it. However, abortions are only legal up to 10 weeks of pregnancy in Portugal (except for certain cases such as rape).
Since 2015, a mandatory three-day "reflection" period is in place and psychological counseling before ending a pregnancy became recommended, due to pressure from religious groups.