When thinking of a potential move, many ask the question – is it easy to find a job in Portugal? Portugal is still recovering from the 2008 economic crisis so finding a job isn't always easy breezy. However, if you have the right academic qualifications and past work experience, you can find a good job in Portugal.
If you're ready thinking of embarking on a new career journey in Portugal as an expat, let's discuss how to find a job in Portugal.
Do you need to speak Portuguese to find a job in Portugal?
Unfortunately, most jobs in Portugal require you to speak Portuguese. Learning Portuguese will make it easier to find a job, as well as live in the country.
However, there are many jobs out there, particularly in larger companies, that also tend to pay better salaries that are now English speaking.
You can also live and work in Portugal remotely, as many international companies offer this opportunity. For many, this is seen as the best of both worlds. You get a non-Portuguese salary while getting to enjoy the country.
How to Find a Job in Portugal: Application Process
The best way to find a job in Portugal is to first figure out what your skills and qualifications are. Once you've done some good old-fashion self-reflection, make sure to spruce up your CV. Search for jobs in your industry online on websites such as LinkedIn, Indeed, Jobs in Lisbon, Expatica, Glassdoor, and more.
Alternatively, you can go for the word-of-mouth way. If you don't know any other expats in Portugal, look for any ads on Facebook groups or even contact companies directly inquiring about vacancies.
Once you've found a potential job, you need to make sure your application is solid. A lot of companies will prefer to choose a Portuguese candidate instead so that they do not have to go through the hassle of applying for a visa (if you are a non-EU citizen). Therefore, your qualifications need to stand out.
The application process in Portugal is pretty straightforward. Usually, you will send your CV with a motivation letter.
In your motivation letter, do not just repeat what is written in your CV. Speak about the skills that you developed throughout the years and your motivations for applying for the job. Your motivation letter shouldn't just reflect why you want the job, but why the company needs you in particular.
If you are selected for an interview, bring with you a copy of your CV and any educational certificates that could be beneficial.
Since Portuguese people are warm and welcoming, be prepared to make small talk and engage in informal conversation.
Your personal interaction with the interviewee means more than in other countries and could make or break a job offer. You might also need to take psychometric and psychological tests, particularly in a large company.
If the interview goes well, expect that HR will ask you for a few references, such as previous employers or university professors.
Keep in mind that for large companies, interview processes can be divided into many stages.
Jobs in Portugal for Expats
But which jobs should you apply for? Expats in Portugal take on a large number of roles and jobs across the country. However, there are few jobs that are the most in-demand and could be suitable for expats. These jobs include:
Software engineers: Lisbon, in particular, has become a start-up hub looking for software engineers and other roles in the IT industry. Many of these jobs are English-speaking.
Tourism and hospitality: As Portugal relies heavily on tourism, it's no surprise that hospitality jobs are in-demand in areas such as Lisbon, Porto, the Algarve, and more. However, knowing Portuguese can often be a requirement.
Real estate: The real estate industry in Portugal is booming. Keep in mind you will need a certification to work as a real estate agent.
Other in-demand jobs include sales representatives, customer service, accountants, translators, and more.
Salaries in Portugal
However, keep in mind that salaries don't need to be super high if you are comparing these to a US or UK salary.
The minimum salary as of January 1, 2023, is €760. The average gross monthly salary in Portugal is €1,361. As Portugal has a progressive taxation system, those receiving the average salary will pay more. After paying income tax and social security, you will be left with €960.
However, sadly, over half of young people up to 34 years old make less than €767 a month. Only 3% of young people make more than €1,642 a month.
What are the best-paying jobs in Portugal?
There are exceptions to these low salaries. Certain jobs pay a lot better, but the vacancies are low, and oftentimes over a decade of experience is required. Let's a take a look at the best paid jobs in Portugal.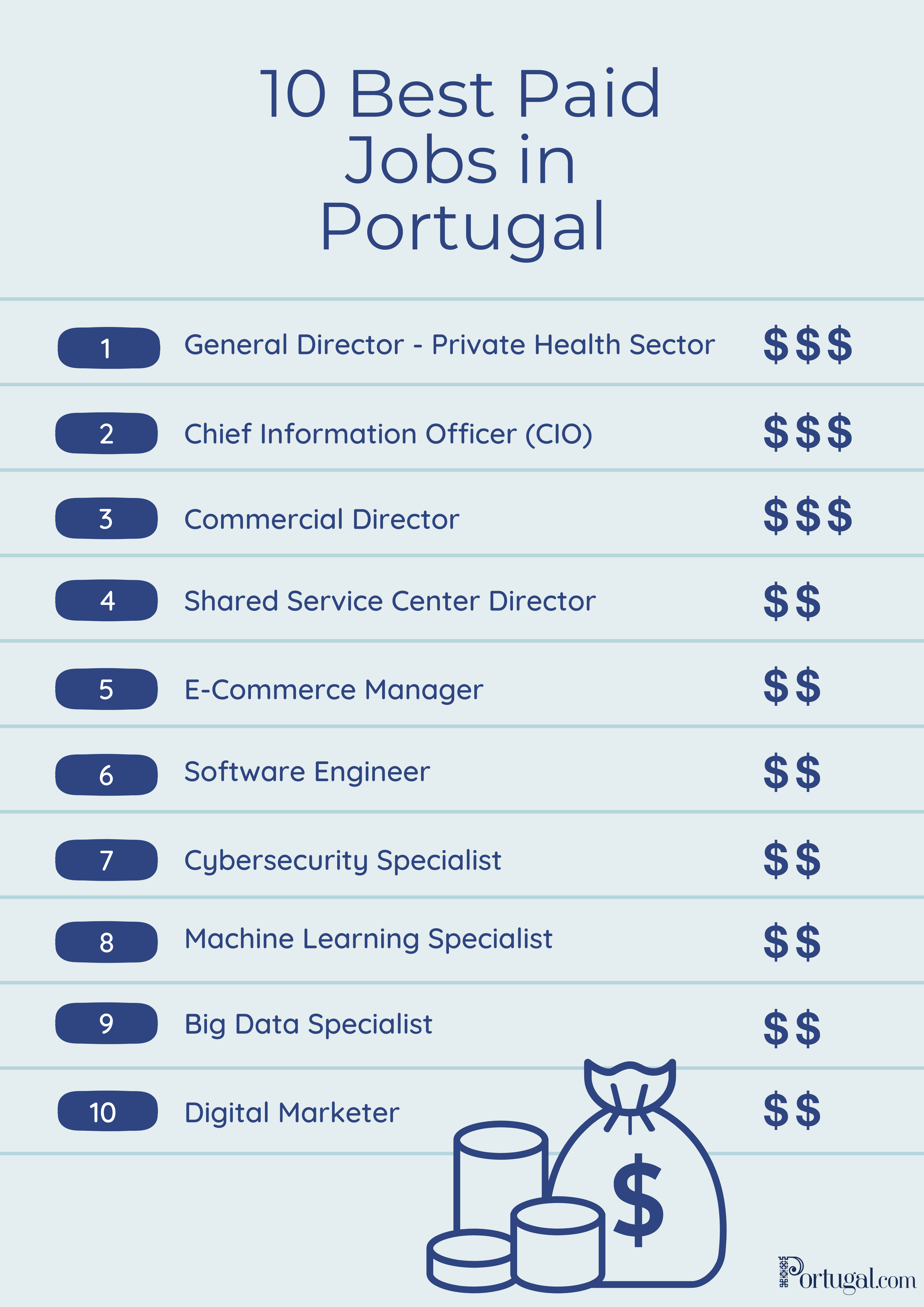 1. General Director in the Private Health Sector: A general director of a hospital oversees the general administration of a private hospital with the health of patients in mind. These professionals make anywhere between €120,000 and €150,000 per year before tax.
2. Chief Information Officer (CIO): A CIO supervises a company's IT organization, managing and implementing computer technologies. These professionals make anywhere between €110,000 and €140,000 per year before tax.
3. Commercial Director: These are responsible for planning, developing, and implementing commercial strategies to generate revenue for a company. They make between €100,000 and €150,000 per year before tax.
4. Shared Service Center Director: They are primarily responsible for planning and controlling the functions within a shared service center and organizing the performance of the available services. These professionals make anywhere between €95,000 and €120,000 per year before tax.
5. E-Commerce Manager: These are responsible for managing orders, improving the customer experience, and evaluating the needs of customers. These professionals make anywhere between €50,000 and €75,000 per year before tax.
6. Software Engineer: A software engineer designs, creates, and maintains computer systems and applications. The salary of a software engineer tends to start at €45,000 per year before tax.
7. Cybersecurity Specialist: A cybersecurity specialist monitors, detects, and responds to cybersecurity risks and threats. These professionals make anywhere between €45,000 and €60,000 per year before tax.
8. Machine Learning Specialist: A machine learning specialist is specialized in developing machine learning, a niche in computer science that focuses on developing algorithms that "learn" from data to make predictions. Salaries tend to start at €40,000 a year but can go higher.
9. Big Data Specialist: A big data specialist reviews, analyzes, and reports on big data stored and maintained by an organization. These professionals make anywhere between €35,000 and €50,000 per year before tax.
10. Digital Marketer: A digital marketer uses digital channels such as company websites and social networks to generate leads and build brand awareness. A digital marketer in Portugal makes between €35,000 and €45,000 a year.