A country best explored by car, Portugal allows tourists from the EU and US to drive with their local driving licenses. However, it might seem daunting at first to figure out how to drive in Portugal due to the various signs in Portuguese and road safety rules. Luckily, this guide to driving in Portugal has everything you need to know. From getting a driving license to insurance costs and renting a car in Portugal, we have got you covered!
Who can drive in Portugal?
To drive a car in Portugal, you must be over the age of 18. However, to rent a car you must be over the age of 21. If you are an EU or American national, you can drive in Portugal with your driving license.
If you are staying longer than six months, an International Driving License is required. If you do not have an EU or American license, you should obtain an International Driving Permit (IDP) before you arrive.
You can apply for one online by paying an application fee and submitting your current driving license.
Make sure you have these in your car when driving in Portugal:
Reflective danger vest
Red reflective warning triangle
Spare wheel and tools
Getting a Driving License in Portugal
If you are a first-time driver, to obtain a driving license in Portugal you must attend both practical and theory lessons and pass these two tests.
To be eligible for a driving license in Portugal, you need to be at least 18 years old, have lived in Portugal for at least 185 days, and not be forbidden from driving.
If you get a driving license in Portugal, you cannot hold one in another EU country. There are multiple types of driving licenses in Portugal, take a look at the graph below.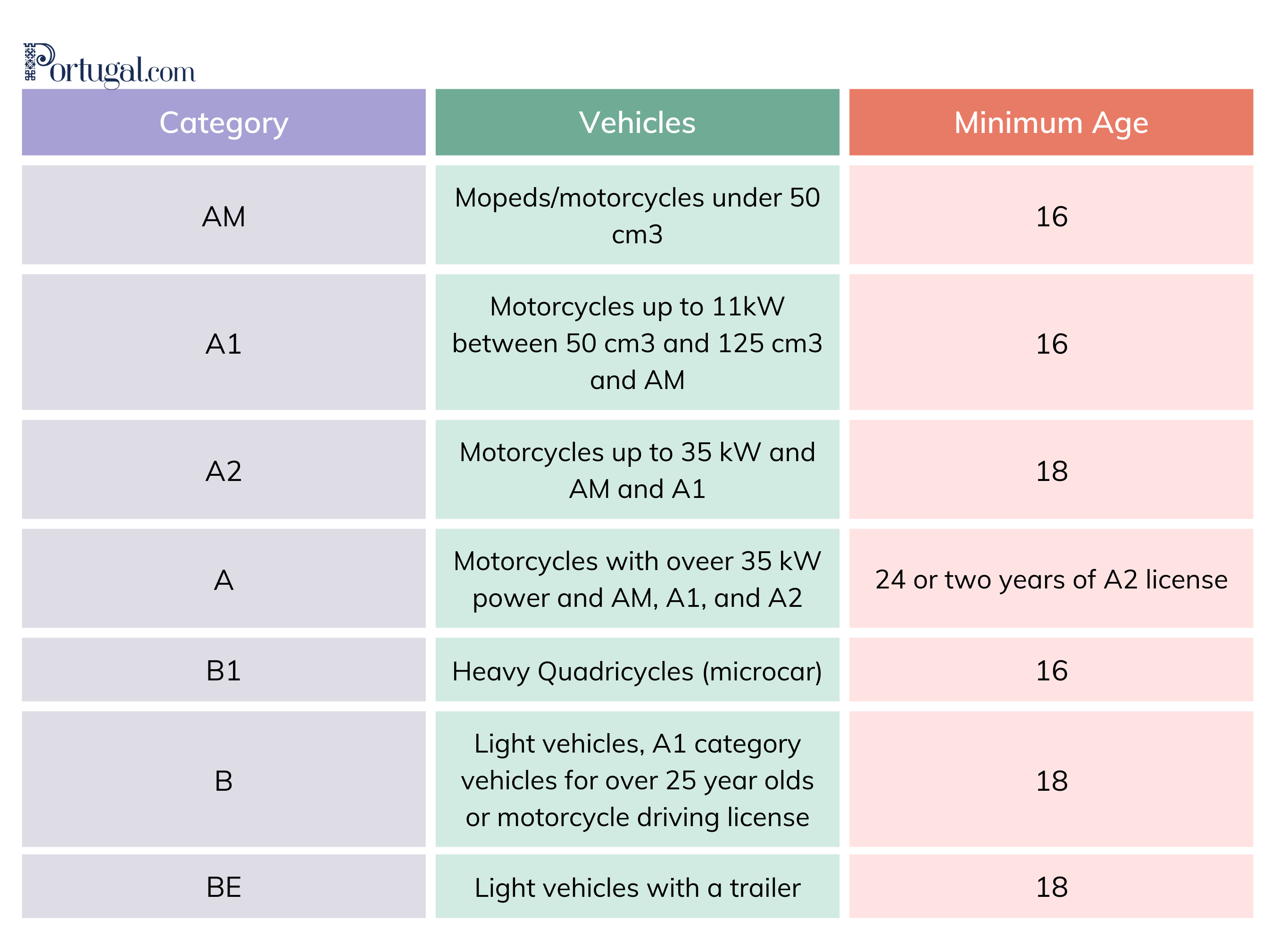 In the theoretical test, you will have to answer 30 multiple choice questions in 35 minutes and can only get 3 answers wrong. This exam tends to be harder than the other exams. The practical driving exam takes 40 to 50 minutes.
Foreign Driving License in Portugal
If you want to exchange your foreign driving license for a Portuguese one, instead of getting a whole new Portuguese one, this process is simple. You can submit an application online and will have to pay a small fee, less than 40 euros.
However, exchanging some driving licenses from certain countries in Portugal obliges you to take a practical driving test.
Road Safety Rules in Portugal
Let's go through the basic road safety rules in Portugal. The list is pretty long, but the rules are pretty much the same as in other European Union countries.
Cars drive on the right and can only overtake other cars on the left
Cars already in the roundabout have the right of way (or priority)
At a crossing, if there is no stop sign or traffic light, cars from the right have priority
You cannot cross a white line or double white lines
You need to stop at stop signs and red lights, even if there is no one coming
You can only use your phone in hands-free mode
Seatbelts are mandatory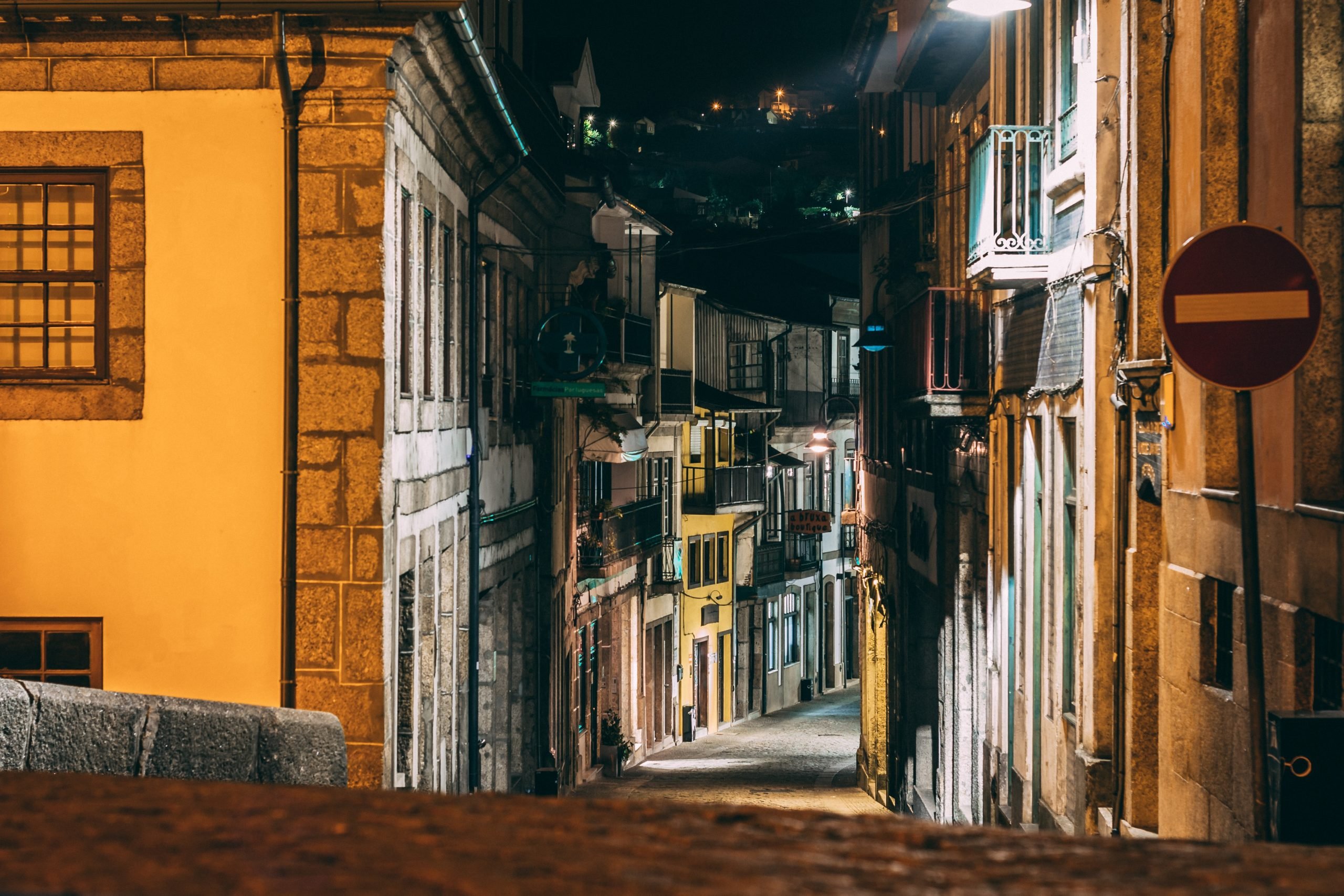 Alcohol Limits
Make sure to not drink and drive. Police regularly stop drivers and check their blood alcohol levels with a breathalyzer, particularly in places such as the Algarve in the summer where clubbing is common.
In Portugal, the driving alcohol limit is 0.5 grams of alcohol for 1 liter of blood (0.5 g/l). Although this will depend on your weight and gender, it's said that drinking more than a beer could get you in trouble. Let's take a look at the alcohol limits and consequences for each.
€250 to €1250 fine for 0.5 g/l to 0.8 g/l
€500 to €2500 fine for 0.8 g/l to 1.2 g/l
Loss of driving license for 1.2 g/l. This alcohol level is considered a crime and can be punished with up to 1 year in prison.
Speed Limits
The speed limits in Portugal vary depending on the location but there are three main speed limits.
50 kilometers per hour in residential areas
90 kilometers per hour on rural roads
120 kilometers per hour on motorways
Whenever the speed limit is not one of these three, it will appear on a white and blue sign.
Car maintenance in Portugal
Portugal enforces mandatory inspections of vehicles, called Inspecao Periodica Obrigatoria (IPO). Your car will be inspected for any issues and these will be fixed if necessary. An IPO is mandatory every two years after the car's fourth birthday and every year after the car's seventh birthday.
Car maintenance is generally affordable, but it depends on the kind of car you have. These can range anywhere between €10 to €50.
Driving Costs: Taxes, Tolls, Fuel, and Car Insurance in Portugal
Circulation Tax in Portugal
If you are importing or registering your car, you will have to pay Vehicle Import Tax (ISV). However, there is also an annual tax all car owners need to pay.
The Circulation Tax (IUC) is paid annually and the rate will depend on the type of vehicle and its age. For a regular-sized car registered after 2007, this should cost you around €70 a year.
Tolls in Portugal
On highways all over Portugal, you will find toll systems. Nowadays, many have electronic toll roads with a radar where you don't even spot to pay the toll. It will be mailed to your address or the car rental company. You will get fined if you don't pay these.
However, most tolls in Portugal have traditional toll roads where you pay on a machine or with a worker, as well as roads with Via Verde. Translating to Green Lane, these toll lanes are marked with a large green V.
To purchase Via Verde, you buy an electronic transponder that will debit your toll fee every time you drive through the lane. If you do not have a Via Verde transponder, do not drive through this lane.
Prices vary depending on the type of vehicle, but for long trips, they are not incredibly cheap. For example, the tolls for a Class 1 car from Lisbon to Lagos in the Algarve costs around €25.
Fuel Prices in Portugal
Fuel prices in Portugal are consistently changing due to the war in Ukraine. As the European Union sanctions Russia, countries lose access to the world's third-largest petroleum producer.
In March of 2022, fuel prices skyrocketed to over €2 a liter. At this moment, fuel prices can range anywhere from €2.10 to €2.20 a liter.
As the average tank carries around 50 liters of fuel, it now costs around €100 to fill up a tank.
Car Insurance in Portugal
All vehicles are required to have car insurance in Portugal, at least a minimum coverage of third-party insurance. This means that the insurance must cover the costs of any damage you might make to other vehicles. You can get better insurance that also covers damage to your own car.
Car insurance costs will differ by the age of the vehicle, your driver profile (such as any history of accidents), and more.
Third-party insurance starts at €150 a year, while full insurance coverage that includes your own car costs around €350 a year.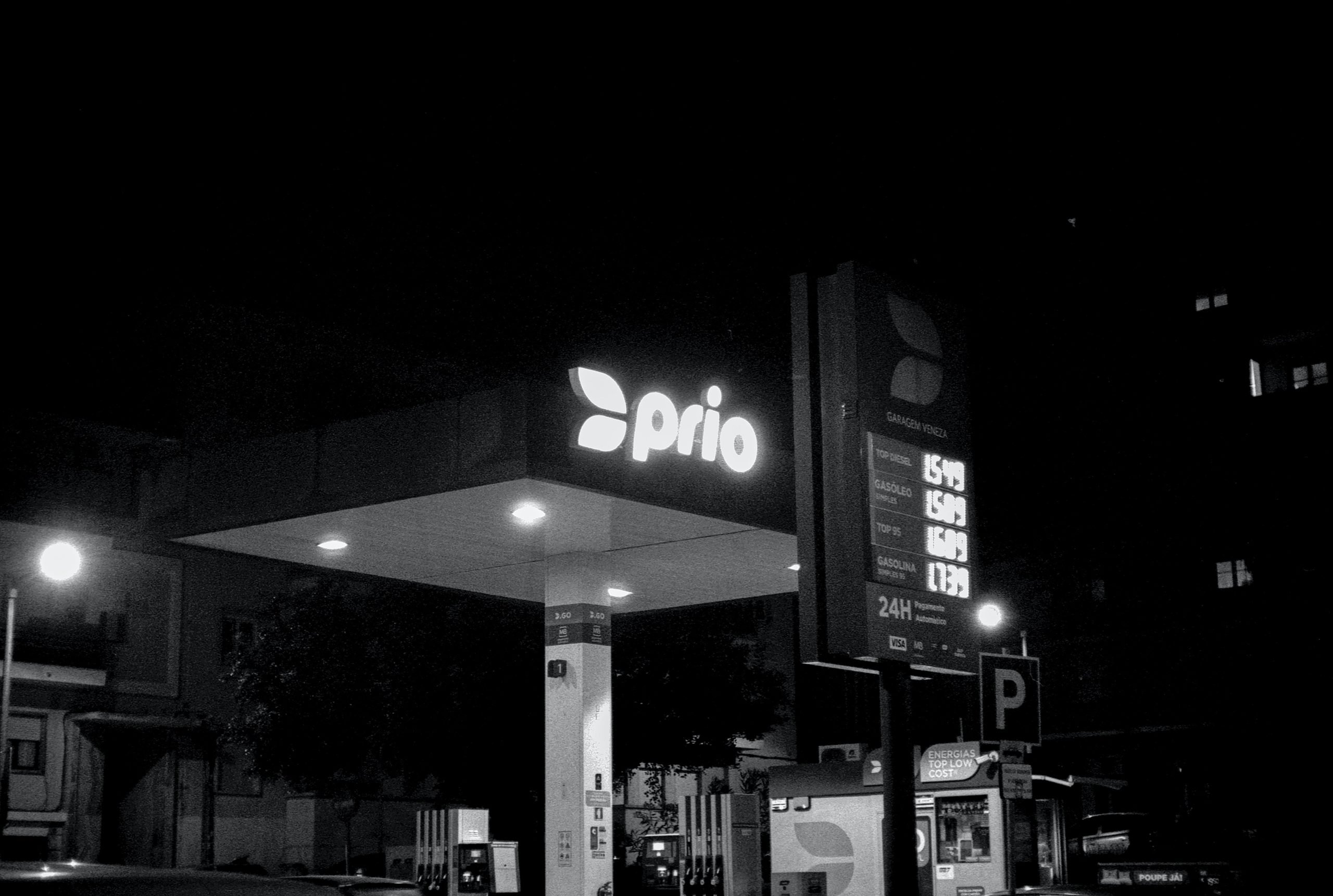 Driving Fines in Portugal
There are multiple reasons you could be fined in Portugal. A distinction is made between, minor, serious, and very serious traffic offenses. A fine is only imposed for minor traffic offenses, while serious to very serious offenses could lead to a driving ban.
Fines must be paid within 15 days and many are paid immediately as police carry pin machines.
From speeding to not having car insurance, let's take a look at what could get you in trouble.
Speeding fines can range anywhere from €60 to €2,500 or having your license suspended for up to two years, depending on the infraction.
A drunk driving fine could cost you up to €1,250 and is considered a crime if your alcohol level is 1.2 g/l or above which could lead to prison.
Driving under the influence of drugs is fined between €500 and €2,500.
Driving through a red list or crossing a solid line could cost you anywhere between €120 to €600.
Parking on a sidewalk or zebra crossing could lead to a fine of up to €300.
Not granting priority to another vehicle on the motorway could cost you between €250 to €1,200.
Using a cellphone will driving could cost you anywhere between €120 and €600 in Portugal.
Driving without a seatbelt could cost you €120 to €600.
Parking in Portugal
Compared to places like the United Kingdom and the Netherlands, Portugal has some affordable parking. Many places will actually have free parking, although in major cities like Lisbon and Porto this is becoming less frequent.
In most streets, you will need to purchase a parking ticket and place it inside your car on the window so it is visible. Don't try to not pay your ticket, there is a high likelihood you could get fined and your car could be towed, costing you even more money.
Residents can also buy a parking sticker, this is super important if you live in Lisbon particularly, as parking is more expensive and some areas are even off-limits for non-residents. You get your first parking sticker for free. The second and third tickets cost between €50 to €150.
Importing a Car to Portugal
If you're thinking of importing a car to Portugal, you will need to pay a fee at customs. To import your car you need to go through the Portuguese Tax and Customs Authority.
The costs will depend on the country of origin. The Vehicle Import Tax (ISV) is usually no more than 10%. You will also need to pay VAT which is 23%.
However, if you are importing your car from an EU or EFTA country, you will not be charged ISV. If you have owned your car for over six months, you are also exempt from VAT.
To import your car to Portugal you will need:
An IMT form model 9
Certificate of conformity
Transaction declaration
Transportation guide from the transportation company (you can also just drive the car yourself)
Customs declaration
If you are visiting Portugal, it's always recommended to rent a car. Apart from Lisbon and Porto, other major cities and quaint villages are not easily accessible by public transport. Although bus networks are present all over the country, these are incredibly slow and unreliable in some places.
The best way to travel to remote villages, as well as main cities, is to rent a car. You can always rent a car at the airport you fly into and return it when you fly back.
With RentalCars.com, you can also select different pick-up and drop-off locations if that suits your itinerary best. The company also offers flexible rentals where you can cancel or change most bookings for free up to 48 hours before pick-up.
Prices will vary on time of year and type of car. If you do not drive stick, beware that automatic car rentals tend to be more expensive.
Buying a Car in Portugal
Foreigners can buy cars in Portugal if they have proof of address in Portugal, a tax number (NIF), and an identity document.
If you are looking to purchase a brand new car, you can head to a concession of the brand you want such as Toyota or BMW. They will register your car and offer you a maintenance contract.
Alternatively, you can purchase a second-hand car which is more affordable. You can look for these in Olx, Auto-Comercio, and Guia Automovel, as well as in official car stands. In a car stand, all second-hand cards will have a minimum 12-month guarantee.
After purchasing your car, you need to fill in the Declaration of Sale and Purchase with the seller. The document will then be delivered to the Notarial Institute (IRN).