Luso is a small town of around 3,000 inhabitants situated at the edge of the Bussaco National Forest in the municipality of Mealhada, a 30-minute drive northeast from Coimbra. It is home to some of the purest water in Portugal with the São João Fountain providing ever-flowing water to its residents since the middle of the 19th century.
One of the interesting things to do in the center of town is to fill your water bottle for free at the São João Fountain and watch the constant parade of people coming to fill up their large and small bottles. The Água de Luso company is the oldest natural mineral water company in Portugal and has been in operation since 1852.
Besides the healing waters, the Bussaco National Forest is also a star attraction, just 2 km above Luso (which is about a 30-minute walk). Benedictine monks first arrived in the forest in the 6th century, and the biodiversity of the forest was greatly expanded by an order of 17th-century Discalced Carmelites.
The Bussaco Forest now has over 250 species from around the world including massive sequoia trees, Mexican cypress, and Australian mountain ash. Wandering through this forest is a truly magical experience.
In the 19th century, the Portuguese royal family commissioned Luigi Manini, the same designer of the famous Quinta da Regaleira in Sintra, to build a summer palace and hunting lodge in the middle of the Bussaco Forest. The royal family only had less than one year to enjoy the palace after its completion before the assassination of King Carlos I and Crown Prince Luis Filipe in 1908.
Luckily, the king's Swiss chef obtained permission from the government to turn the palace into a hotel in 1910, and it has been operating successfully ever since. Visitors can stay at the 5-star Bussaco Palace and enjoy strolling around the surrounding forest.
Luso has warm, dry summers with mostly clear skies. The winters, on the other hand, are cold, wet, and partly cloudy. Temperatures typically range from 3 °C to 28 °C (32 °F to 82 °F). The best time of the year to visit Luso is from mid-June to mid-September.
Where is Luso in Portugal?
Luso is a small town located in the municipality of Mealhada in the central part of Portugal. Luso is located 26 kilometers away from Coimbra (30 min drive) and 110 kilometers away from Porto (1 hr and 15 min drive). The closest airport to Luso is Porto airport, around 120 kilometers away. However, if you find it more convenient and affordable to fly to Lisbon, it is around 222 kilometers away (just over a 2-hour drive).
What to do in Luso
Luso is famous for one thing above all: water. Fed by the mountain of Bussaco, the pure water of Luso is on full display at the São Joāo Fountain in the middle of town, which has been providing water to Luso residents since the 19th century. People from far and wide come to the fountain to fill up huge water bottles at all hours of the day.
The water flows continuously and the adjacent thermal spring attracts spa lovers who can indulge in a variety of treatments at the Termas de Luso. Just above the town center lies the Bussaco Forest, whose remarkable collection of plant species expanded in the 17th century with the help of a Carmelite monastery.
The Bussaco Forest currently occupies an area of 105 hectares and contains around 250 different species of plants and shrubs. It is considered one of Europe's finest collections of trees and one of the richest in terms of natural, architectural, and cultural heritage.
In 1907, the Bussaco Palace was completed for the Portuguese royal family, although they only had a chance to enjoy it until the end of the monarchy in 1910. It then became a hotel and can still be enjoyed today.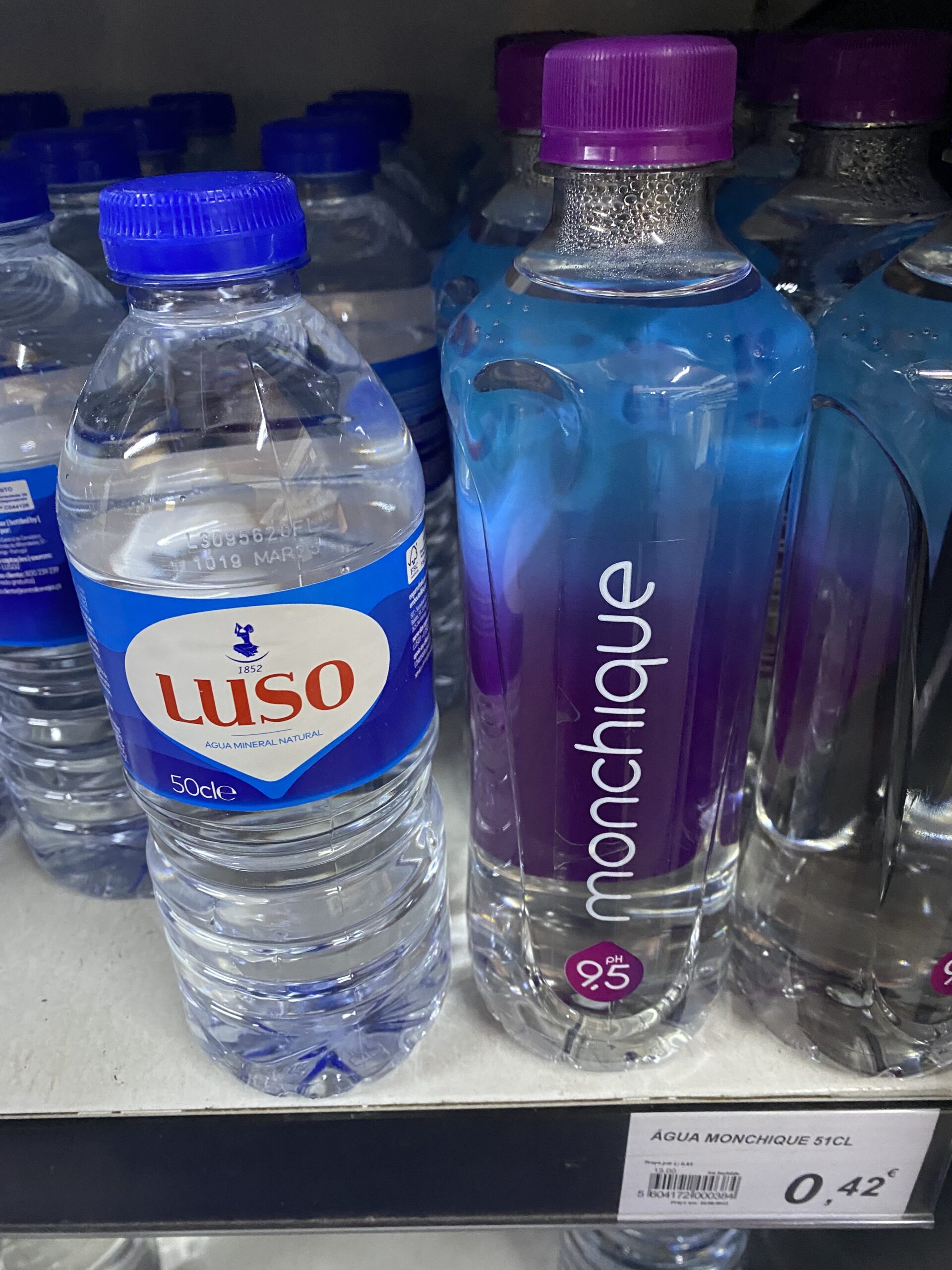 3 Best Tours & Experiences in Luso
On this half-day excursion, travel from Coimbra to Luso and make a quick stop at the spa town of Luso. Fill your water bottle at the famous Luso fountain before heading to the 19th-century Bussaco Palace. Take a guided tour of this former summer palace of the Portuguese royal family. Learn more about the local flora and fauna in the surrounding forest planted by the Discalced Carmelite monks beginning in the 17th century.
Book Bussaco Palace, Gardens, and Forest Tour
On this full-day private tour, depart from Porto to visit the enchanting 19th-century Bussaco Palace and the surrounding forest of the same name. The tour then continues on to the University of Coimbra, one of the world's oldest and most prestigious universities. Soak up the lively atmosphere as you stroll through the university's expansive courtyards before making a stop at the Joanina Library. Dating all the way back to 1717, this library is one of the world's most beautiful.
Book Bussaco Palace/University of Coimbra Tour
Enjoy this day trip from Porto where you will first indulge in the sparkling wines of the Bairrada region. Explore an old wine cellar transformed into a museum displaying an amazing collection of exotic pieces. Then, continue on to the spa towns of Curia and Luso to check out their healing waters.
Bairrada Private Tour (Luso and Curia Villages) with Wine Tasting
Things to do in Luso
1. People-Watch and Fill Up Your Bottle with Pure Water at the São João Fountain
The Fonte de São João or St. John Fountain is the main draw in the center of Luso, where a constant stream of people flow in to fill their water bottles with its renowned pure water coming from the Bussaco mountain above. This is people-watching on an epic level because the visitors just keep on coming long into the night. Grab a spot at one of the nearby cafes and watch as the people parade into the square and struggle to carry out their huge bottles. I have been to Luso three times and this never seems to get old.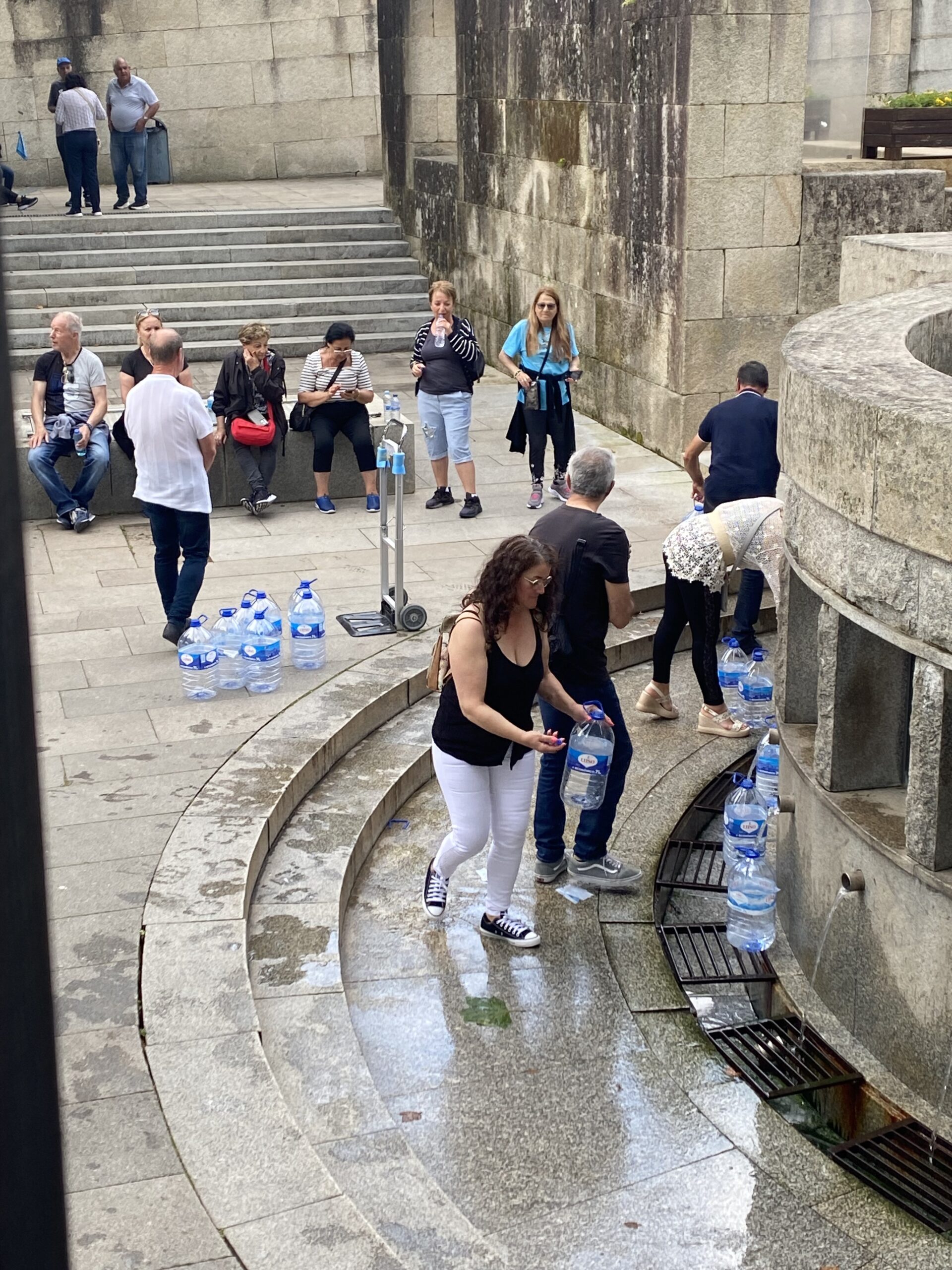 2. Walk through the Bussaco Forest
José Saramago, winner of the 1998 Nobel Prize in Literature once described Bussaco Forest as a place that "demands a whole vocabulary which, once spoken, tells us that there's still everything left to say. You don't describe Buçaco forest. The best thing is to lose yourself in it."
Unlike most forests, Bussaco National Forest has an extraordinary collection of over 250 species from around the world. There is an avenue of ferns, towering sequoias, Mexican cypress, and Australian mountain ash, to name a few. The forest is heralded as one of the best collections of dendrological species in Europe and also has intriguing structures such as the Fonte Fria (Cold Fountain), a cascading stairway of water built in the 1880s. Stroll through the enchanting paths, find the swans on the lake, and prepare to be enchanted by this one-of-a-kind place.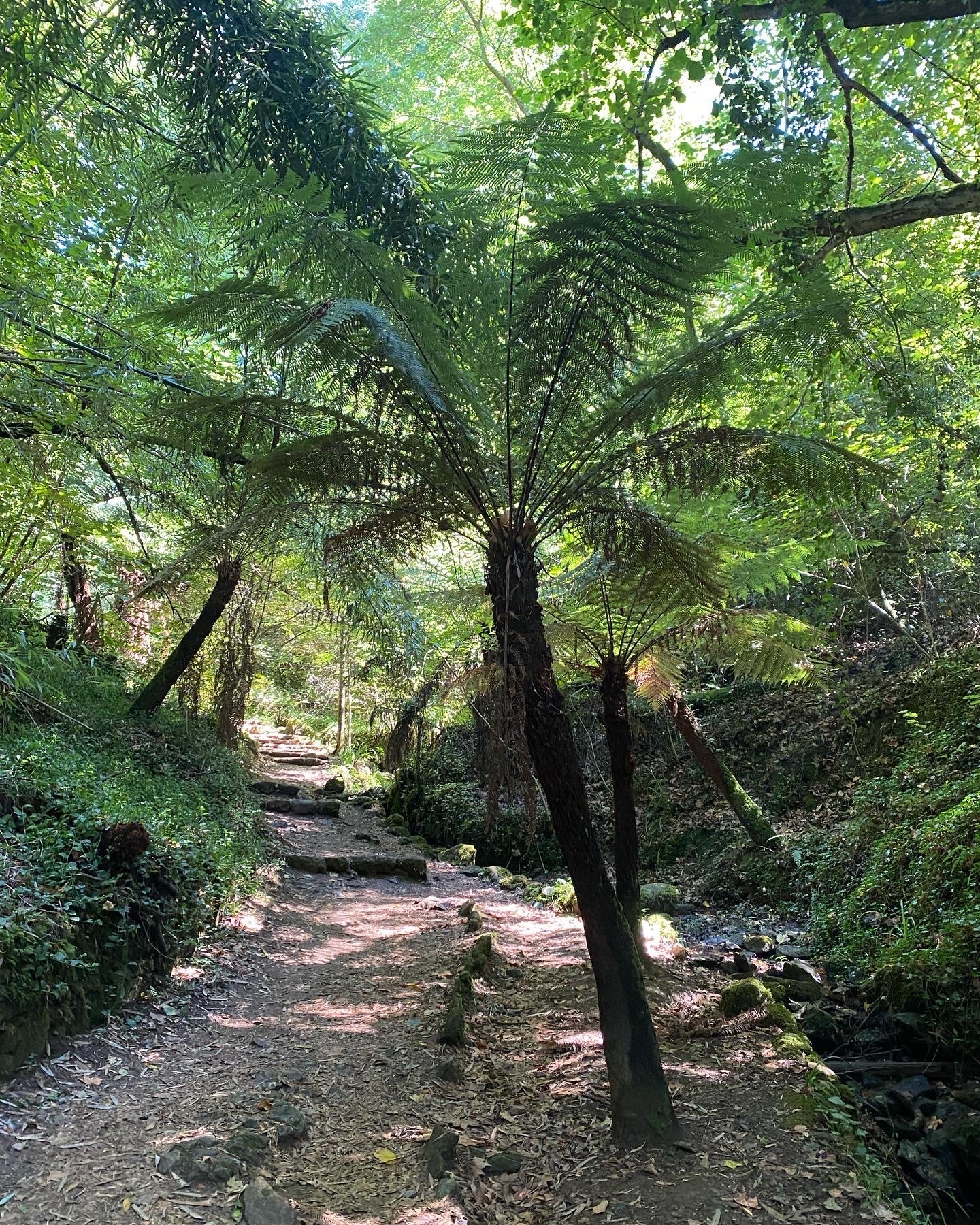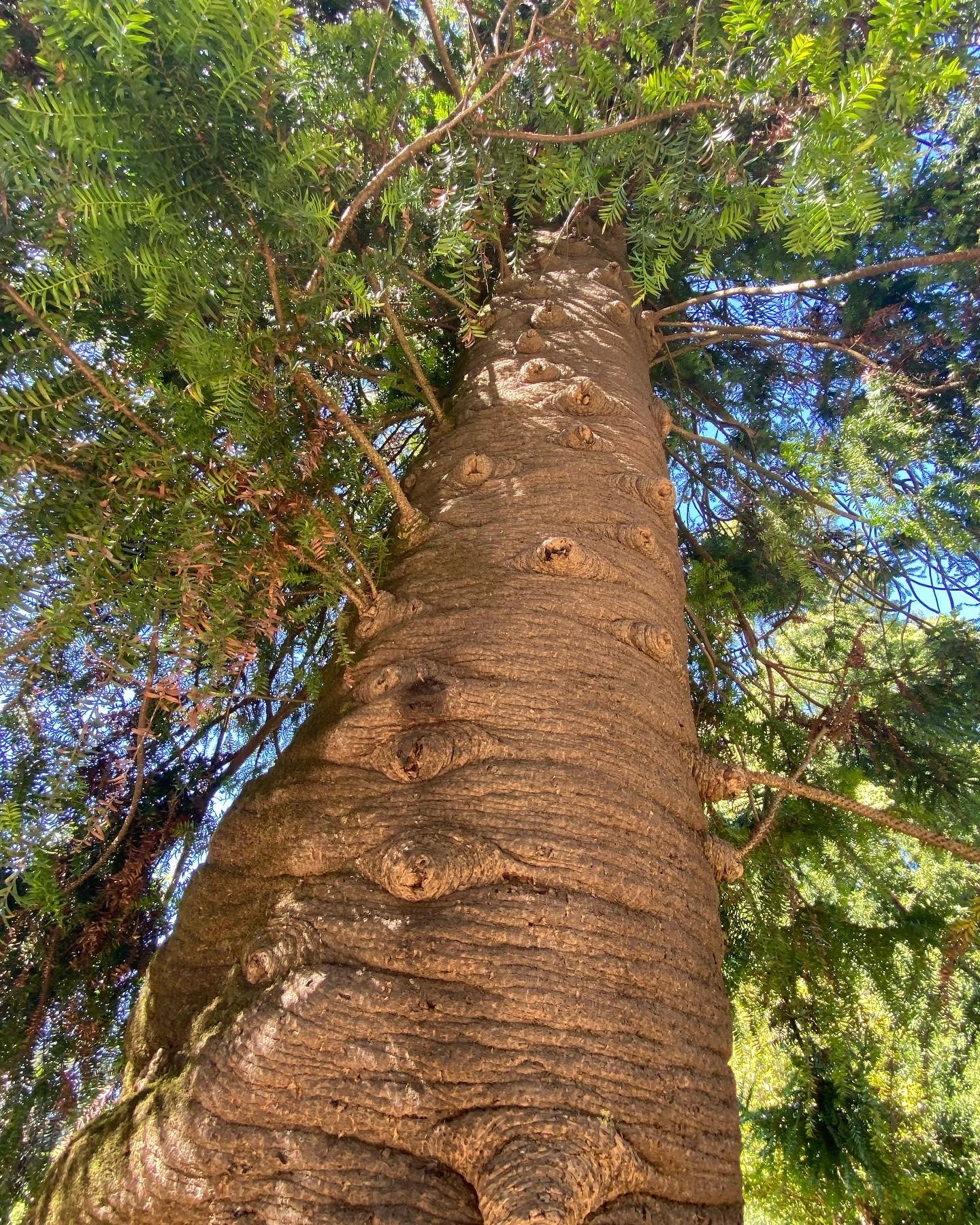 3. Stay at the Bussaco Palace, the Former Summer Residence of the Portuguese Royal Family
The Bussaco Palace Hotel was commissioned in the 19th century by the Portuguese royal family and completed in 1907. It was designed by Luigi Manini, the same architect and former set painter responsible for Quinta da Regaleira in Sintra. However, the royals only got to enjoy the palace for a short time before the monarchy ended in 1910.
In the same year, the king's Swiss chef received permission from the government to convert the palace into a hotel. Guests have been enjoying the gorgeous setting and surrounding gardens ever since. The palace hotel is decorated with exquisite tilework, exotic wood floors, paintings by João Vaz, and Moorish ceilings.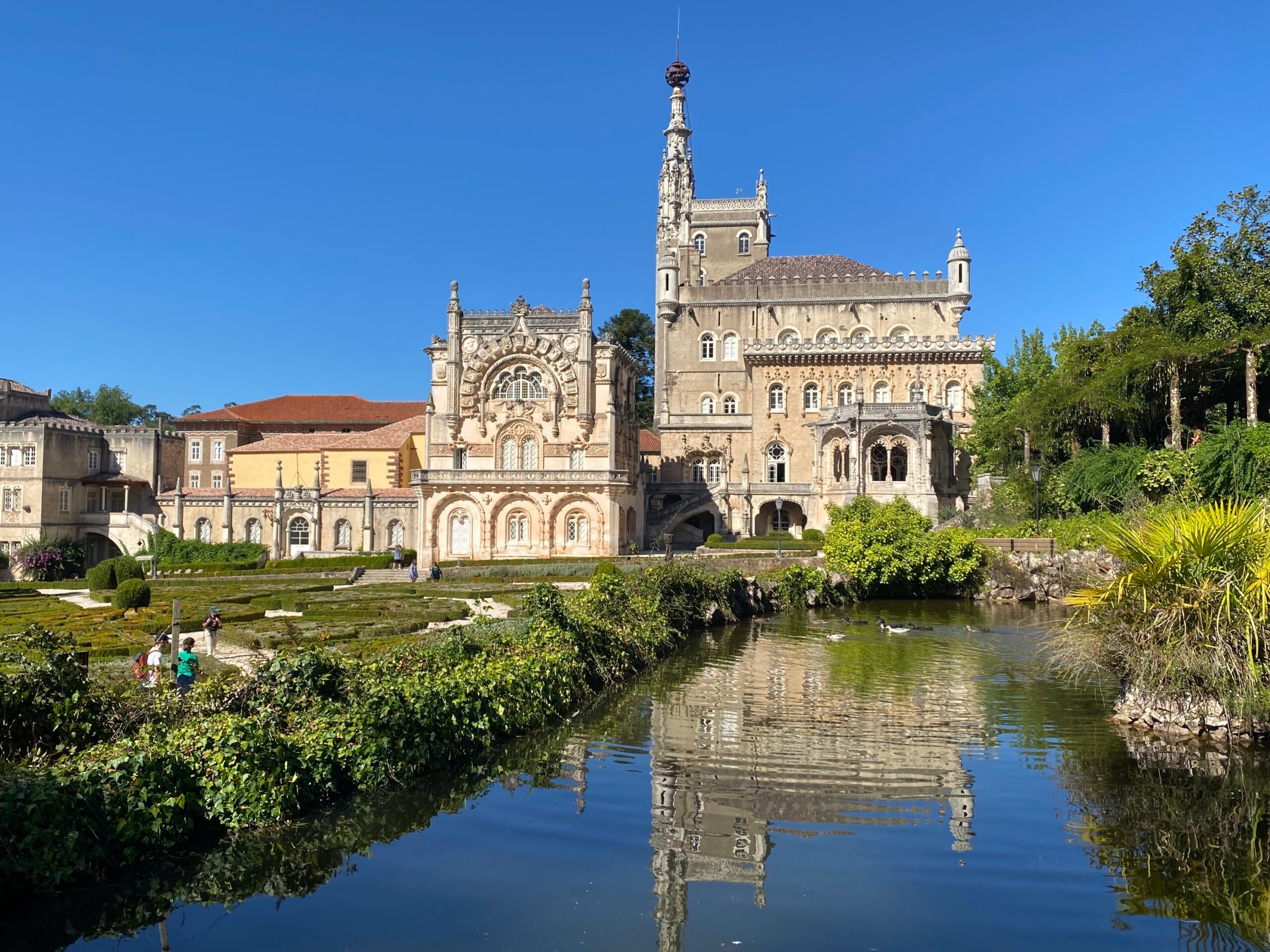 4. Book a Spa Treatment at the Termas de Luso
The therapeutic properties of Luso Thermal Water have been recognized for centuries, and the only place in town where you can access spa treatments is the Termas de Luso, open since 1852.
Built over the thermal spring, the Termas de Luso has 13 treatment rooms, a large thermal water pool designed by the famous architect Gustave Eiffel, and a medical center with a large variety of treatments.
The Thermal Complex is now open to the public all year round and many people opt for the basic circuit to experience the variety of stations in the pool area.
Please note that Termas de Luso is not open on Sundays and is only open from 10:00 am–to 8:00 pm on Saturdays which includes a 2-hour lunch break from 1:00 pm-3:00 pm. If you are coming on the weekend, it is best to book a treatment ahead of time by putting in a request using the spa's website here.
5. Feed the ducks and relax at the Parque do Lago de Luso
The charming Parque do Lago de Luso is only a 5-minute walk from Luso's main square. Immediately upon arriving at the park, you get the sense that is well-loved. The centerpiece is the lake with a small island in the middle inhabited by ducks and geese.
You can stroll around the lake or use one of the paddle boats at the small dock for free. The park also has exercise equipment, a children's playground, and an indoor community swimming pool with a small café next door. This is a great place to go for a picnic or just before sunset.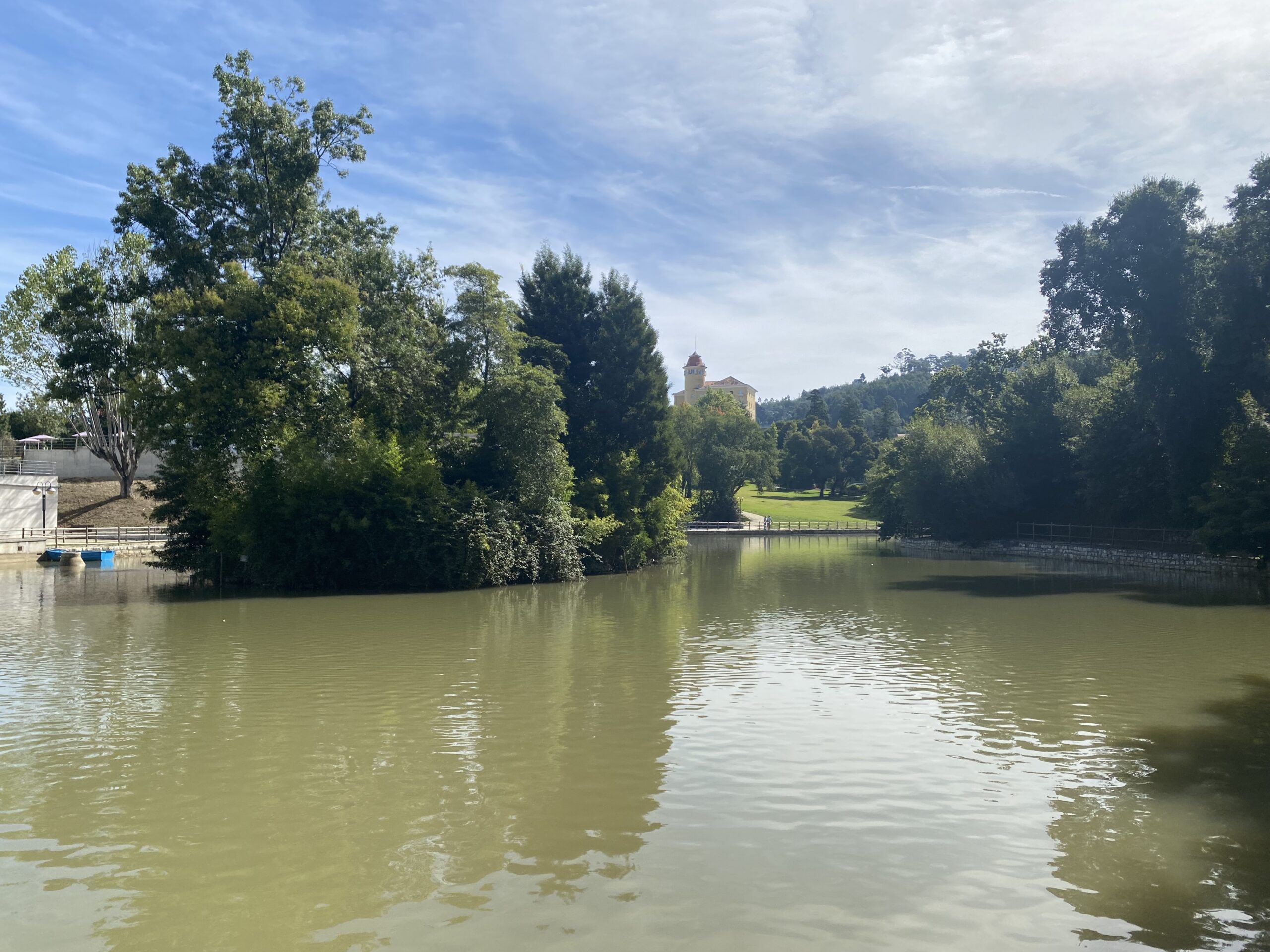 Where to eat in Luso
Luso has less than 10 restaurants in the town's vicinity, so, if you don't have a car and are staying overnight, your choices will be a bit limited. However, there is one top-notch restaurant serving local black pork with a long list of wines and the neighboring Bussaco Palace Hotel offers meals in the sumptuous former home of the Portuguese royal family. Be sure to check the restaurants' opening times to make sure that you don't miss out on dinner.
Here are our 5 favorite restaurants in Luso.
Pedra de Sal is hands-down the best restaurant in town. The restaurant has a lovely ambiance and a long wine list. Dishes include mouth-watering black pork, juicy steak, and chocolate cake served with orange sorbet. There are only around ten tables, so making a reservation is recommended, especially if you're visiting on a weekend. English menus are available.
The bill for two people will set you back around €70, but the quality of the food and service are well worth it.
Lourenços serves traditional food with fast, polite service and is located right in the center of town. If you are looking for something a bit cheaper than Pedra de Sal, or can't get into the restaurant for the evening, this is your main alternative. There are no English menus available, but a nice variety of dishes are available including octopus, goat, and sheep steak. Adequate is a great word to describe the restaurant. You won't be blown away, but you will get fed, and that is important in a town with only a few restaurants within walking distance.
A meal for two here is around €40.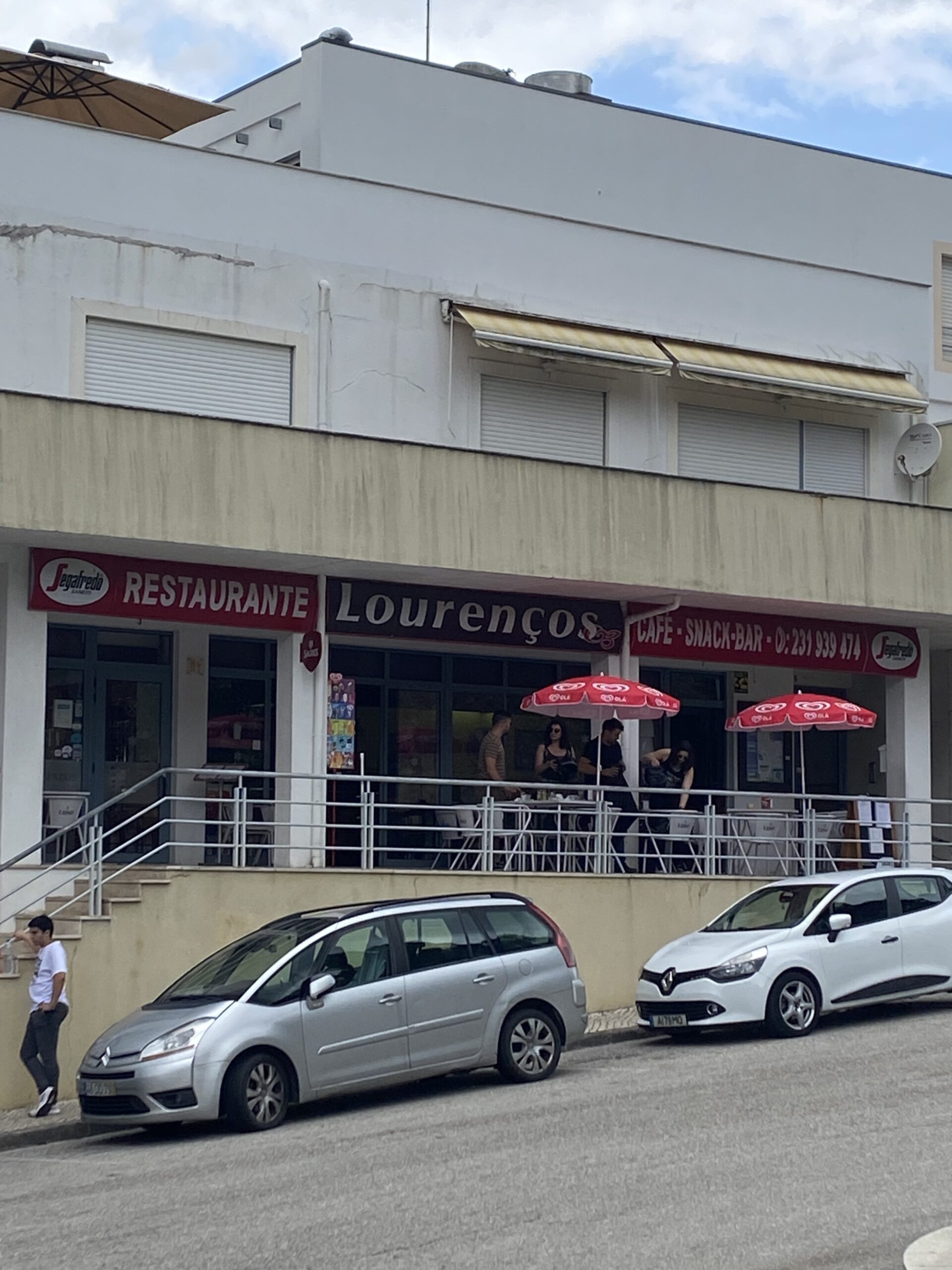 3. Bussaco Palace Hotel Restaurant
From the center of Luso, drive 10 minutes to the enchanting Bussaco Palace and splurge on lunch at around 40 euros per person. Enjoy the charming 19th-century palace and its stunning tilework. Bear in mind that you are paying for the setting here more than the food, as the quality leaves something to be desired. Recommended for those who want to spend some time in the palace without paying for a night's stay. Instead of driving, you can also work up an appetite by taking the 35-minute walk from Luso through the Bussaco Forest.
A meal for two here will cost you €80 – €100.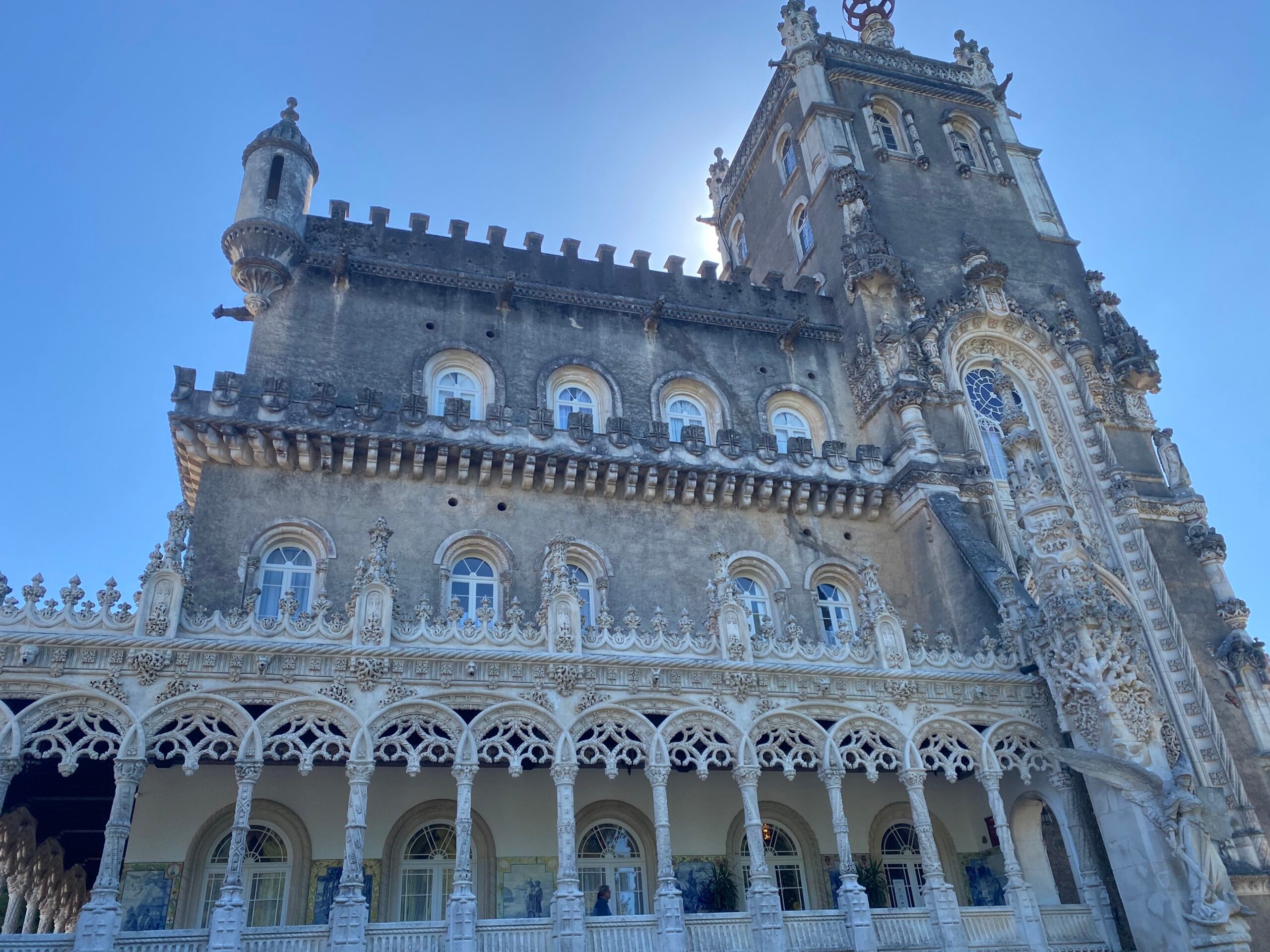 4. Rosa Biscoito Luso
Rosa Biscoito Luso is by far the best café in town and right next to the Termas de Luso spa. It has generous indoor and outdoor seating with a huge menu including tea, sandwiches, a variety of pastries, and even ice cream. Sit in the shade and enjoy your tea while looking out into the square. There are also a small number of souvenirs available here. Service can be a bit slow, based on personal experience.
A meal for two here will cost you around €30.
Taberna do Burriqueiro is named after the burros who would carry the water from Luso to surrounding villages in the 1800s (fun fact). This is the place to go if you're looking for American-style comfort food such as hamburgers, hot wings, and jalapeño poppers. You can also try a typical Portuguese sandwich called a "bifana" and wash it down with a cold beer. There is both indoor and outdoor seating, and the service here is very friendly.
A meal for two here will cost you less than €40.
Getting around in Luso
Unlike Porto or Coimbra, Luso is a small town, but it does have a train station called Luso-Bucaco that runs directly from Coimbra three times a day (12:25 pm, 4:25 pm, and 6:35 pm) and takes 30 minutes. It is also possible to get an Uber or Bolt from Coimbra to Luso for around 20 euros, although you may need to wait for a while for a driver to accept the ride.
It is entirely possible to get around Luso on foot once you arrive, although you may appreciate the car if you do not want to make the 35-minute walk to the Bussaco Palace. Taxi service is available in the center of town, but it is best to rent a car from Coimbra or Porto and drive in for the day. If you are staying overnight in Luso, parking is available at most hotels.
If you are staying near Coimbra in northern Portugal, then you can book this tour to Luso and Bussaco for €104 where you can fill up your water bottle in Luso before visiting Bussaco Palace. This tour includes a stop at Bussaco Palace before continuing on to the University of Coimbra for €115. There is also another package from Porto for €215.
Final Thoughts
I first discovered Luso on YouTube and have now been three times since 2018. I am always surprised at how off the beaten path it still seems to be for tourists, despite the amazing Bussaco Forest and the stunning Bussaco Palace just above the town. Luso is also full of interesting hotels with lots of history including the Grande Hotel de Luso and Alegre Hotel Bussaco.
I am also admittedly someone who loves walkable places and Luso's pleasant hills, compact town square, and neighboring marketplace offer a magical small-town charm. The town's long history with water also lends it an important and enduring connection to the rest of Portugal.
Many tours visit Luso for only a couple of hours, but I recommend staying for two nights to fully be able to enjoy this little charming source of Portugal's water. If you love towns with a strong sense of history, beautiful palaces, an endless source of pure water, soaking in thermal baths, people-watching, and beautiful forests, you are going to love Luso.
If you would like to visit other towns nearby, check out Coimbra and Aveiro.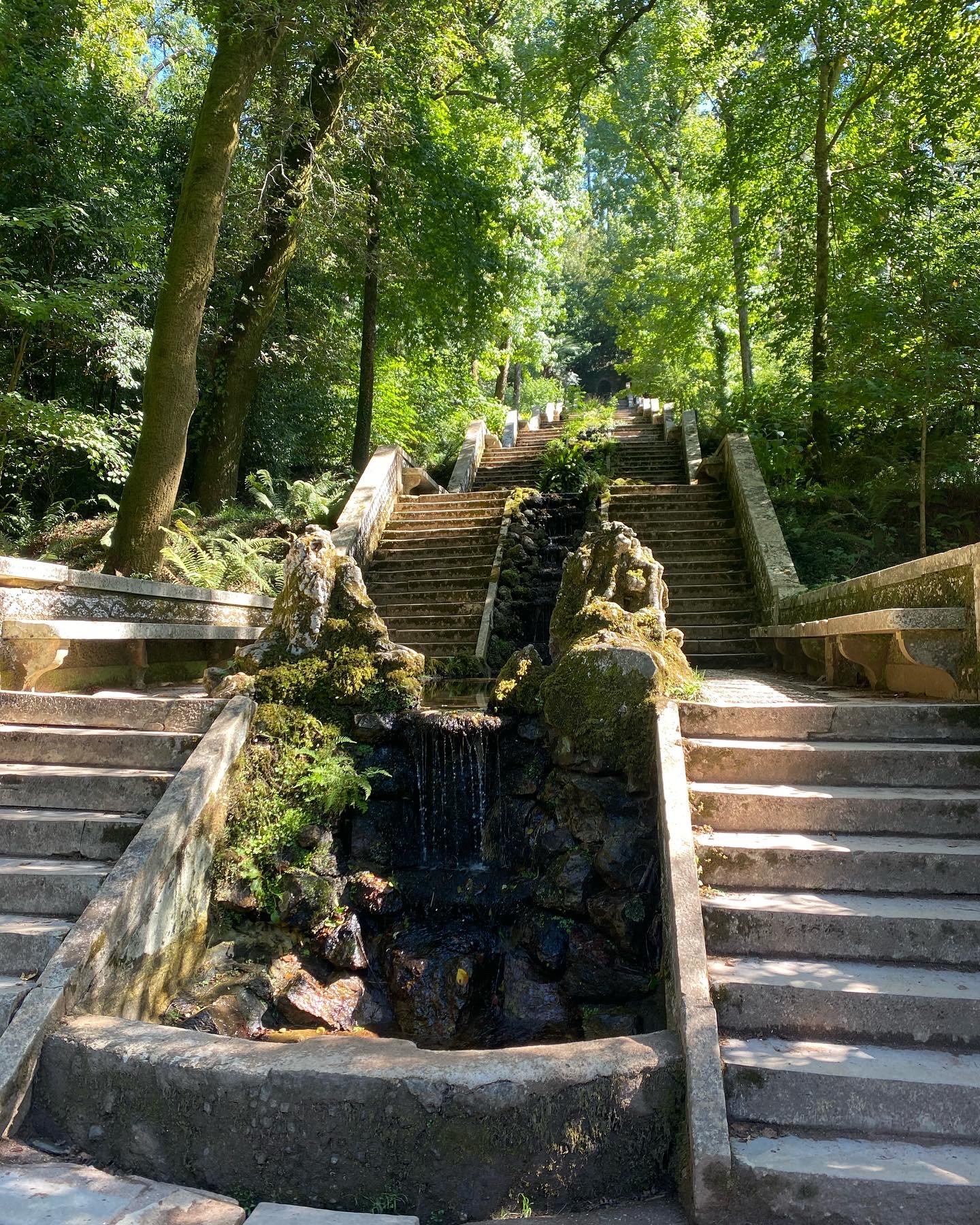 ⬇️Please share your favorite activities and things to do in Luso in the comments below ⬇️