Located in the south of Portugal, the Algarve is perhaps the most sought-out area for families in the summer looking for a relaxing vacation in Portugal. This region caters to families with various interests, including those who love to spend days at the beach relaxing, as well as the more adventurous kids. Let's take a look at 7 best things to do in the Algarve with kids for your next family trip!
1. Water parks in the Algarve
The Algarve is home to popular waterparks. These are usually only open between April and October and are a great activity for children. You can spend the whole day at a water park for an unforgettable day out.
Slide & Splash is located close to Alvor and is one of the largest waterparks. This child-friendly waterpark opened in 1986 and has an area of 10 hectares, including giant slides, loungers, spaces for animal shows, restaurants, and a shop. There are slides for all ages!
Another favorite is Aquashow, a waterpark that is part of a leisure complex with a 4-star hotel. The waterpark features plenty of slides, pools, a watercoaster, and more attractions for the brave, as well as activities for smaller children.
If you choose to stay at the Hotel Aquashow, it features 148 rooms, indoor and outdoor swimming pools, a gym, a restaurant, bars, and more.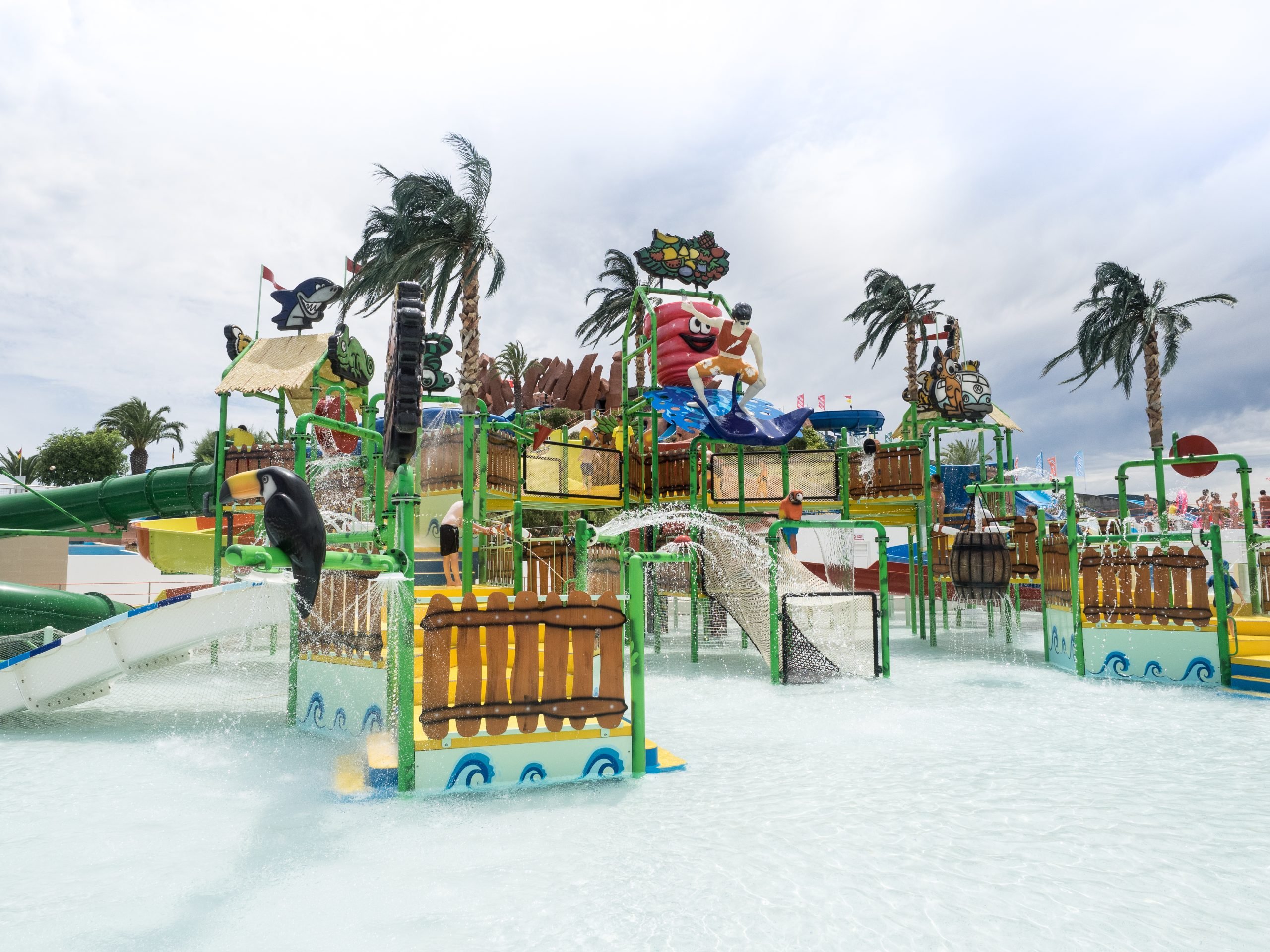 2. Algarve family beach day
A beach day is the classic Algarve day out with the family that never gets old. The Algarve is a vast region with several wonderful beaches. Most would argue the Algarve has the best beaches in all of Portugal. There are so many options, so which beaches are the best in the Algarve for a family day?
Praia do Alvor is one of the most well-known beaches in the region of the Algarve in the south of Portugal. The beach is composed of fine white sand and stretches over 3.5 kilometers, featuring a long boardwalk that guides to gorgeous dunes and the Ria de Alvor Nature Reserve.
You can find a beautiful lagoon behind the beach, formed by the river of Alvor where you can enjoy some windsurfing, kayaking, and more. You will also find several restaurants close to the beach, as well as bathrooms, showers, and a lifeguard station.
Located in Tavira, Praia do Barril features a wooden path over the golden sand, which provides a gorgeous contrast with the dark blue waters. Due to the large size of the beach, you will rarely feel like it's too busy, despite its popularity.
Praia do Odeceixe is located in Aljezur and is surrounded by the Ribeira de Seixe, a river that surrounds the 330-meter beach until it reaches the ocean. During low tide, many small lagoons appear in the sand, perfect for kids to play in. You will also find surf schools at the beach where you can rent a board or take some classes to get started.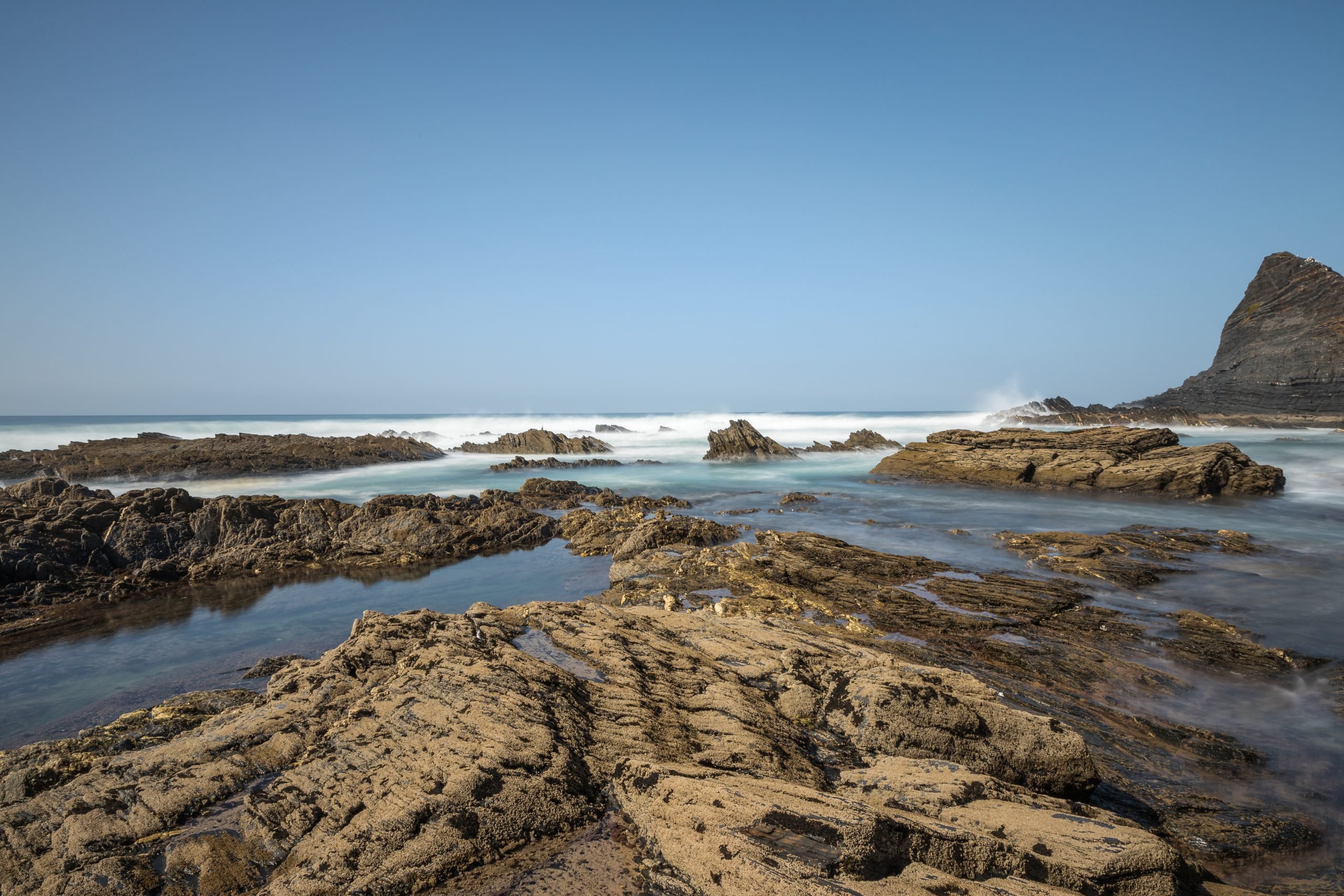 3. Mini-golf in the Algarve
The Algarve is known for its amazing golf courses, including mini-golf courses for kids and adults to enjoy.
One of the most famous mini-golf courses is the Family Golf Park in Vilamoura. This includes two 18-hole courses, the Via Appia, devoted to the history of the Roman Empire, and the Via Lusitania, devoted to the Roman Empire's occupation of the Iberian Peninsula.
You can even organize a mini-golf tournament, where they will take care of everything, including a welcome drink and the medal ceremony. The Family Golf Park also has a games room with different options, a restaurant, kids club, and a tourist train to explore Vilamoura.
Another great mini golf course is Golfland in Alvor, set within a tropical garden. Founded 8 years ago, this more recent golf course combines mini golf, street food, cocktails, and great hospitality for a unique experience. Along with the 18-hole mini golf course, there are indoor golf simulators, a playground, restaurants, a games room, and more.
4. Boat experiences
Many would say that the Algarve is best explored by sea. Luckily, there are a ton of boat tours for tourists wanting to explore the region, which are incredibly child-friendly.
For a trip along the Algarve coastline from Albufeira to Benangil, book this catamaran tour. You will be able to marvel at the rock formations and Benangil cave, as well as stop for a swim. This three-hour tour includes a live tour guide that speaks both Portuguese and English.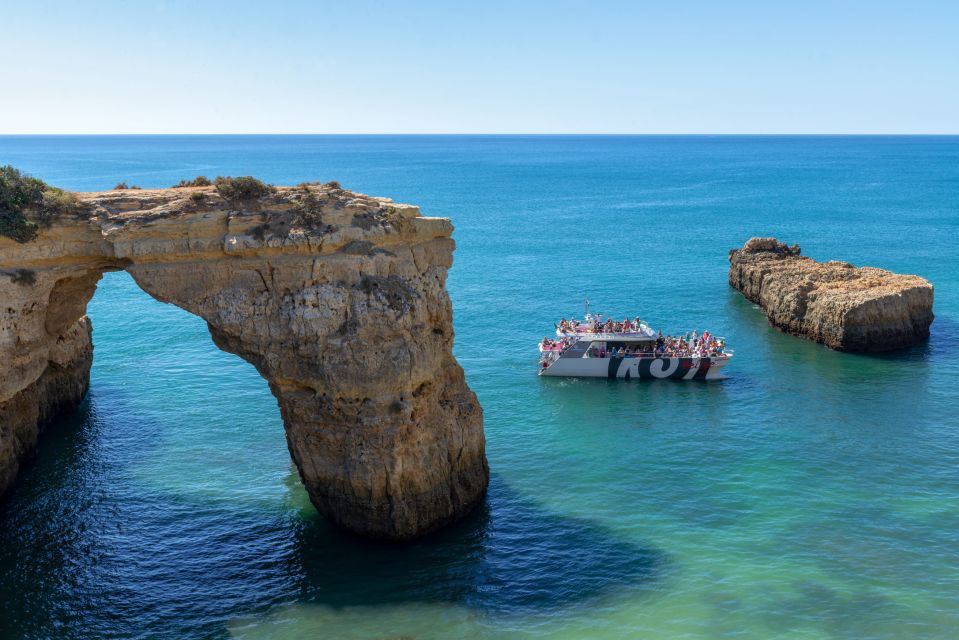 Alternatively, this 75-minute boat cruise from Lagos to Ponta da Piedade sails over beautiful turquoise waters with a live tour guide. It is a small tour with fewer than 9 participants and stops at secluded grottos and beaches such as D. Ana Beach and Camilo Beach.
If you want to really entertain your kids, what about some dolphin-watching? This 2.5-hour dolphin-watching tour not only allows you to spot the beautiful animals in their natural habitat but also allows you to see the Benagil Sea Cave. The tour includes a live tour guide, available in multiple languages, including Spanish, English, French, Portuguese, and Dutch. You can book the whole boat for a completely private tour!
5. Lagos Zoo
Opened in 2000, Zoo Lagos has over 140 animal species from five continents, including exotic animals, as well as goats, donkeys, and guinea pigs that your kids can pet!
The Zoo has an active role in the conservation of nature and participates in several captive breeding programs for endangered species. It also raises awareness among visitors through environmental campaigns, exhibitions, and more, providing great learning opportunities for kids.
6. Krazyworld
Krazyworld was first founded as a mini-golf 22 years ago, but it is not expanded into a fully licensed zoo. This place is home to a bunch of kid-friendly activities that will make the whole family happy. Krazyworld includes a petting farm, swimming pool, waterslides, inflatables, pedal karts, minigolf, high-ropes, and paintball!
The zoo is interactive, allowing your family to get close and pet a bunch of amazing animals, such as dwarf goats and deer. The zoo also includes one of the largest snakes in Europe!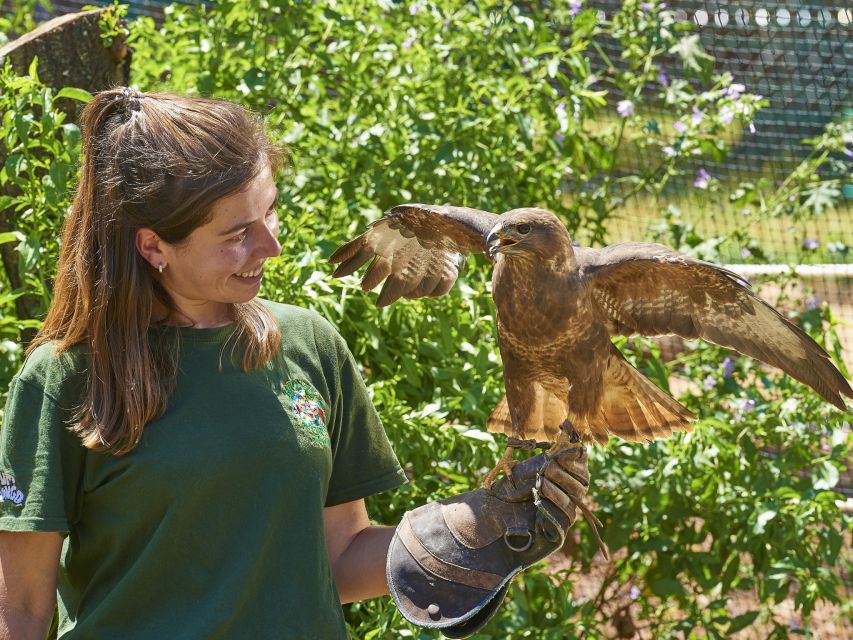 7. Pirate ship cave cruise
If you're in the Portimao area, we highly recommend this pirate ship cave cruise! Your kids will feel like tiny pirates sailing the Atlantic on an unforgettable cruise.
The ship sails through various iconic points, including the village of Ferragudo, medieval castles, and the famous rock formation of Algar Seco. You will also arrive at the lighthouse of Alfanzina, and there you will transfer to a small boat to visit the inside of the local caves.
On the return to the boat, you can take a swim in the ocean, as well as look out for dolphins on the ride home!